(For Indonesia reader only, or those who happen to understand Indonesia and Javanese)

Okay, this time, it's really not important...
i'll post my conversations with my friend, mostly very unimportant!
i've saved the conversation's windows...notice the "s" after "window"?it means there aren't just one! No hurt feeling to anybody, this is just funny to read, especially when this "C" name occur.

So, ladies and gentlemen...i present you, my most unimportant chat that happened between me and "the unknown man"
p.s : my chat-mate will be a secret, to keep his privacy. But if some of you happened to know who he is, then it's not my fault.

February 22nd
we were talking about our vacation trip to Purwodadi. it was a normal conversation...until he mentioned the "name"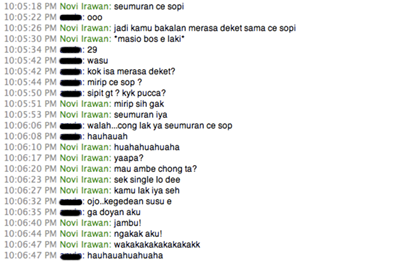 February 25th
Still talking about our vacation trip, but this time, the topic was about what should we bring, and what should we do after the paintball.




March 3rd
Ah, another movie's nite...made an appointment with him...and yet, he still mentioned the "name"





March 12nd
Okay, this time, i was asking for his help, to colouring the illustration...yet again, he's bringing back the "name" huahahahaha

break time...we'll be back after this break...



March 17th
it's been a while, and he's still fall for my "word-trap"...mwahahaa...it's so easy to make him speak "dangerous" word...hahaha




March 30th
Nothing important, just a regular chat session...




April 13rd
Again, just a regular chat session with unimportant topic, only asking for our trip to Mt. Bromo.




. . .

Really...really...unimportant
Yellow