So here we go again, with part 02 of "How 90's are you?".
previous post was exquisitely funny to remember, how much do you actually remember those things from your childhood? as for me, i remember almost all of it!, but don't ask me the detail about each things :p, that's what i can't remember. (but i'm extremely amazed with someone who actually REMEMBER the theme song of one TV drama!).
anyway, let's continue the nostalgia, shall we?

oh, and now i'm opening request session for you who want me to post something from your childhood memories, i'll try to search it, or you can also suggest what should we post next time :)

here we go again!



1. Toys we used to play
okay, it actually should be posted under "Games we used to play" at previous post, but i think it's no problem, since yesterday i'm totally forgot this things. ah never mind, just check it :)

pic's info :
left :
1. Balon Tiup
this is an oldschool toys, just with only 150 rupiahs, you can get 2 tube of "some-kind-of-glue-that-actually-can-be-blown" and a mini straw (usually yellow), just put the gel to the straw and blow it slowly, to make it bloat. there are some peoples that always try to pop it out with their mouths, cause it'll make sounds like "tok!" or something like that. the funny things is, sometimes their saliva got mixed with the balloon after that...gross! hahaha
2. BePe a.k.a Bongkar Pasang
typically, a girls' toy. the paper doll with all the clothes and fashion equipment.

mid :
1. Pistol Karet
don't worry...it's safe actually. a must have toys for kids who dreamed to be a policeman...dream on kid...
2. YoYo
ah i remember this, sold for 500-1500 rupiahs, depends on the size. also there is a Yoyo that have a firestone with them, so whenever the Yoyo hit the asphalt or hard surfaces, it'll sparkle :D
3. Kapal Uap
a basic steamboat. just put a candle in it, and it'll goes round and round in the water surfaces...usually comes with this sounds : "tek tretek...tek tek...tekk"

right :
1. Tetris
the most annoying game for me. why?because it always try to insult me whenever i made a mistake when playing...still remember? "Boleh juga lu..." ; "Bego Lu!"
2. Spirogram
put your pen into one of their holes, and start writing, it'll make a beautiful Spirogram, and it came up differently depends on which hole you picked :p
3. Pesawat Gabus
simple...a paper plane, sometimes it takes bird figure also.


2. Snacks we used to eat (oh i love this part >.<)
2.1 Chocolates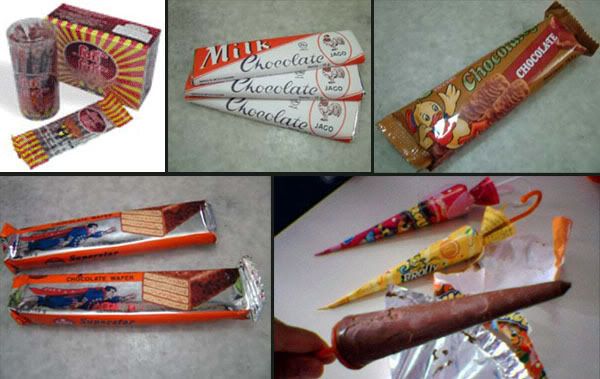 pic's info :
top :
1. Choki-Choki
2. Coklat Ayam
don't ever think to translate it...chocolate chicken?chicken chocolate?aww, cmoon.
3. Chiki Stick
came up with 2 variants as far as i know, chocolate and strawberry :)

bottom :
1. Coklat Wafer Superman
2. Coklat Payung
this is so famous, even Rihanna made a song about this :
"i'm not gonna share you my umbrella...ella...ella..e..e..e.."


2.2 Candies and other sweet snacks

pic's info :
left :
1. Gulali
this is interesting, you can ask the seller to shape your Gulali into many shapes...the famous one is Corn shaped!
2. Pindy Pop
just a simple lollipop at that time...still remember the tv-ad jingle? "pindy pop...bikin gaya, makin ngepop"...*oops that's different pop, that's Hot Hot Pop's jingle :p*
3. Gulali Aeng-aeng a.k.a arum manis
hahaha looks like fiberglasses. but it actually some kind of Gulali that stringy (=berserabut)

mid :
1. Yosan Bubble Gum
the interesting thing about this bubble gum wasn't the candy itself, but it's packaging. each paper packaging contain 1 letter from Y-O-S-A-N. but as far as i remember, till i reach junior high school, i don't even close to complete all the letters -_-;
2. Mr Sarmento
sarsaparilla candy, had an unique taste, it was good actually.
3. Haw Flak Sour snacks
this is my all time favorites...it actually not a candy, but just some kind of "manisan" (i can't find the right term in english >.<)

right :
1. Chicklets
2. White Rabbit milk candy
i love this candy back when i was a kid, it tastes like milk. i always ask my mom this candy whenever i came home from school. but now, it's hard to find this candy anymore because of the Formaline issue. one thing i don't understand, i've consumed this candy since i was a kid, and i don't feel anything strange happened to my body...so what's wrong with this candy actually?!
3. Cotton candy


2.3 Other snacks and ice cream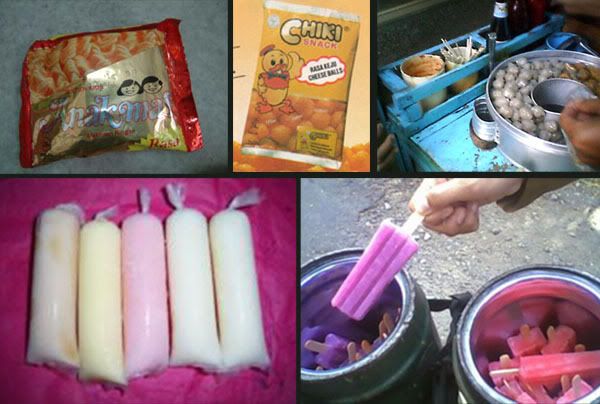 pic's info:
top :
1. Anak Mas
you're not an Indonesian if you don't know this snack! it's a must for every kids!
2. Chiki Balls
3. Pentol

bottom :
1. Es Mambo
2. Es Tong-tong
we knew it's name because the seller will hit their can of ice, so it'll make a "tong...tong" sound :p

How's that again?bring back memories again, right?
Let's enjoy this for now, while i'm preparing the next posts :D

Yellow
to be continue...